Understanding the marketing funnel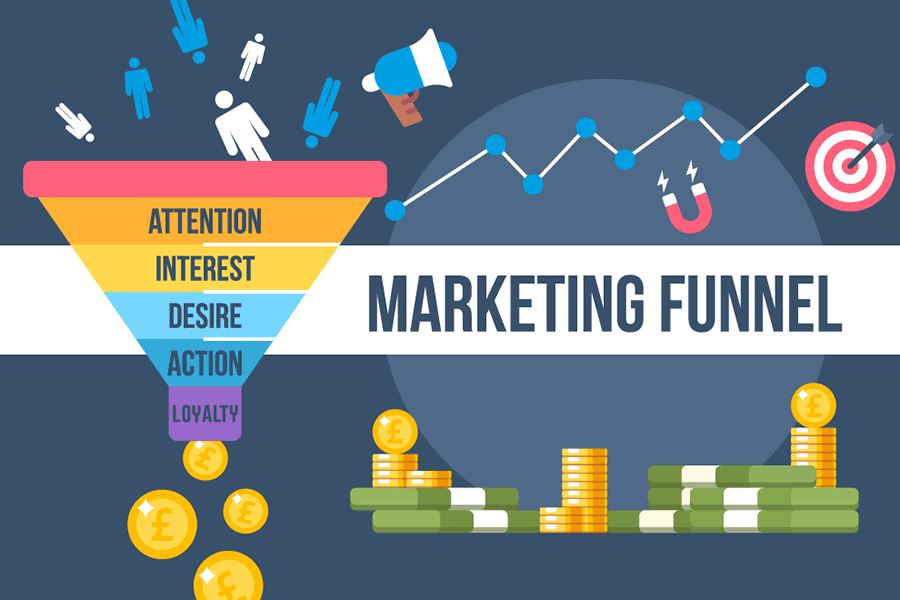 There are different variations of the marketing funnel, in this blog I'll be referring to the funnel with 5 stages: Awareness, Interest, Desire, Action and Loyalty.
Awareness
The first stage is about creating potential customers aware that your product or service exists. Without knowledge about your business customers won't even be able to consider choosing your product/service the next time the need arises.
The main method of gaining audience awareness is through advertising campaigns that focus on brand awareness as opposed to sales or conversions – because at this stage it is more important to create a strong brand image and make sure that it's in the minds of the people. Some methods to achieve this are by:
Interest
The first stage is about getting the audience's attention, this stage is about keeping it. You'll want to explain the benefits of your product/service and relate to the customer. By doing this you'll be planting the seeds for a potential future purchase. A few methods to gain your audience's interest are:
Desire
For this stage in the marketing funnel, you'll want to turn your customers "I like it" attitude" into an "I want it" attitude. A way to create desire is by building trust, excitement and maybe a little incentive. You can build trust by continuing to reinforce your brand image and how well you serve others. Excitement can be built in many ways such as highlighting features of a product and showcasing how much it'd benefit the customer. Some ways to create desire are:
Action
This is the final stage of the marketing funnel the customer goes through before pulling the trigger. The steady work put into the previous stages all lead to this point – and in order to not dissuade people from taking action, you'll want to ensure that everything is in order to facilitate the purchase. Some ways you can do this:
Loyalty
Continuing to market to and more importantly support customers after they've made a purchase is vital. Existing customers are far cheaper to retain and they're more likely to make another purchase. It also improves the way these customers interact with the brand and speak about it to others. Taking the time to build up a loyal customer base can attract new customers through word of mouth advertising. Which is one of the most powerful forms of advertising there is. You can improve customer loyalty by:
Understanding and improving your marketing funnel can be key in the success of your business.
See our blog for more Web Performance Tips.
Connect with us on LinkedIn.