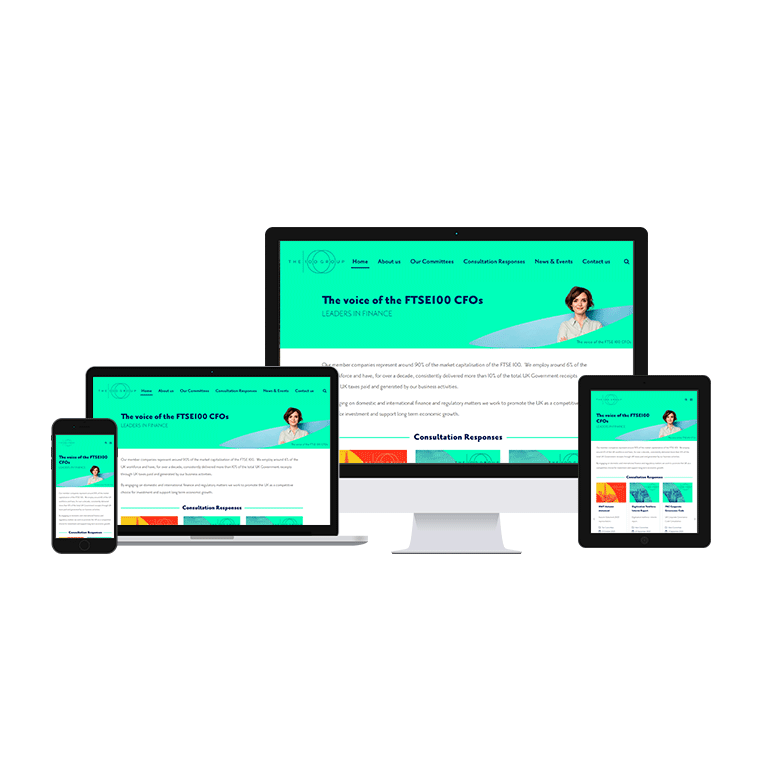 The 100 Group
When approached by The 100 Group to create a digital hub for the leading voices in finance, our team at DigiBubble was eager to tackle the challenge. The group's stature as the voice of FTSE100 CFOs demanded a web presence that was not only sleek and professional but also robust in functionality to facilitate their influential dialogue on financial and regulatory matters.
Our web development project commenced with a deep dive into the essence of what The 100 Group represents—a conglomerate of expertise and leadership in finance. Our design philosophy was anchored in creating a platform that would be intuitively navigable, fostering an environment where information could be accessed swiftly and interactions could be conducted seamlessly.
Key elements we implemented include:
A Clean, Sophisticated Design: Reflective of the group's professional ethos, we employed a crisp layout, accented with a fresh colour palette that conveys both innovation and trustworthiness.
User-Centric Navigation: Aware that The 100 Group's audience would range from financial experts to policy-makers, we ensured the site's structure facilitated easy discovery of information, with clearly defined sections such as 'Consultation Responses', 'News & Events', and 'About Us'.
Responsive and Accessible: Given the mobile nature of today's users, we delivered a fully responsive design, ensuring the site's optimal performance across all devices and adherence to accessibility standards.
Dynamic Content Areas: The homepage features dynamic content sections like 'Consultation Responses', highlighting key documents and dates—vital for the group's engagement with ongoing financial discourse and policy consultations.
We've integrated a content management system that empowers The 100 Group to maintain up-to-date communication with their stakeholders. This website is more than just an information centre—it's a cornerstone for thought leadership in the financial sector, encouraging informed discussions and decisions that shape economic growth.
What we did
Ongoing technical support
What we've been working on recently