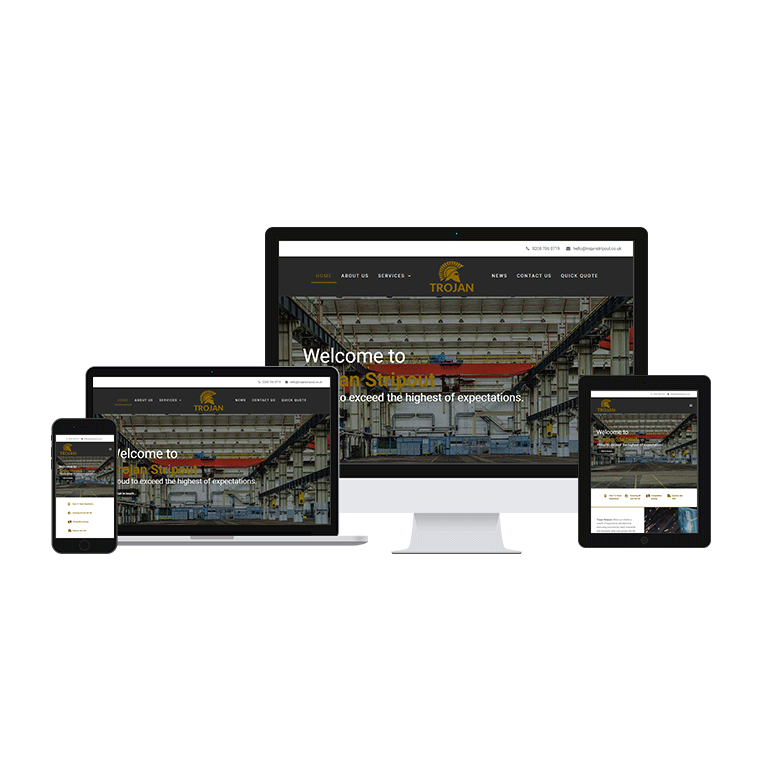 Trojan Stripout
Step into the world of expert demolition and machine hire with Trojan Stripout Limited's newly launched website. Catering to clients across the UK, this platform is a testament to the company's mastery in delivering cost-effective, reliable, and meticulously planned stripout services.
Website Features:
Powerful, Professional Design: The homepage displays a striking balance between strong imagery and functional design, reflecting Trojan's industry-leading services. The tagline "Nationwide specialist machine hire" immediately informs users of the core offering.
Quick and Easy Quote System: A 'Quick Quote' feature is prominently placed, encouraging potential clients to reach out with ease, signalling Trojan's commitment to responsive customer engagement.
Expertise and Trustworthiness: Highlighted icons emphasise the company's strengths such as 'Over 15 Years Experience' and 'Fully Insured', building a foundation of trust and expertise right from the outset.
Efficient Navigation: With a clear and concise menu layout including 'Home', 'About Us', 'Services', 'News', 'Contact Us', and the notable 'Quick Quote' option, site visitors can effortlessly locate the information they require.
Optimised for All Devices: Acknowledging the modern necessity for accessibility, the site's responsive design ensures that whether on a desktop or a mobile device, the user experience remains uncompromised.
Trojan Stripout Limited's website serves as a digital cornerstone for their business, highlighting their dedication to quality, efficiency, and customer satisfaction. It invites potential clients to experience a seamless journey from initial inquiry to project completion, underpinned by the company's solid reputation and professional ethos.
What we did
Ongoing technical support
What we've been working on recently