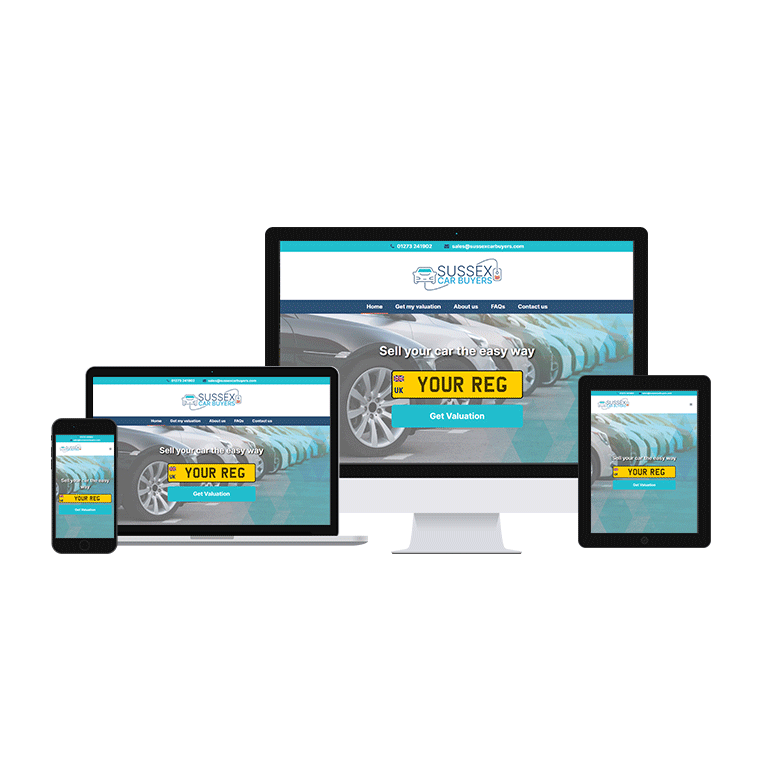 Sussex Car Buyers
We are thrilled to present the new user-friendly website for Sussex Car Buyers, designed to transform how customers sell their cars. Emphasising simplicity and convenience, our objective was to craft an online experience that makes car selling as straightforward as possible.
Website Highlights:
Sleek, User-Friendly Interface: The homepage greets users with a bold and clear proposition: "Sell your car the easy way." The design is uncluttered, directing focus to the central call-to-action.
Immediate Valuation Access: Central to the design is the 'Get Valuation' feature, which invites users to enter their car registration number for a quick estimate, streamlining the user journey right from the start.
Intuitive Navigation: With a straightforward menu including 'Home', 'Get my valuation', 'About us', 'FAQs', and 'Contact us', users can easily find the information they need without unnecessary complexity.
Responsive Design: Understanding that users may access the site from various devices, the website is fully responsive, ensuring a seamless experience on desktops, tablets, and mobile phones.
Contact Information Visibility: Right at the top, the website makes it easy for users to reach out with visible phone and email contact options, indicating readiness to assist customers.
What we did
Ongoing technical support
What we've been working on recently