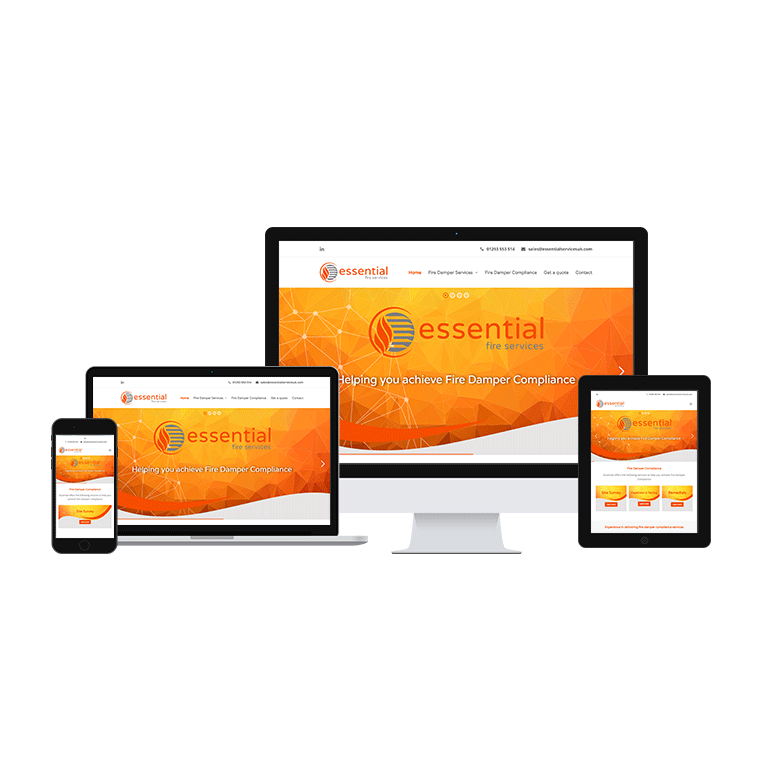 Essential Services UK
Essential Fire Services emphasizes its expertise in Fire Damper Compliance. They assist clients in ensuring that their fire dampers meet necessary safety and regulatory standards. The company is dedicated to providing comprehensive services related to fire damper compliance, from site surveys to remediation.
Client's Requirements for the Website:
A professional and clear design that reflects the serious nature of fire safety and compliance.
Straightforward navigation options include "Home", "Fire Damper Services", "Fire Damper Compliance", "Get a quote", and "Contact".
A bold statement, "Helping you achieve Fire Damper Compliance", signalling their core service offering.
Direct call-to-action buttons leading to their key services.
Contact details are prominently displayed, ensuring easy access for potential clients.
Main Features:
An engaging geometric design in varying shades of orange conveys warmth and caution, which is apt for a company dealing with fire safety.
The company logo is prominently displayed, establishing brand identity.
A main banner headline that effectively communicates their mission to assist clients in achieving fire damper compliance.
A section dedicated to explaining the services they offer, further broken down into three key areas: "Site Survey", "Inspection & Testing", and "Remedials" – each with its call-to-action button.
Essential contact information at the top right corner, including a phone number and email address, ensuring clients have easy access to reach out.
What we did
Ongoing technical support
What we've been working on recently